The Space Broom Experiment DVD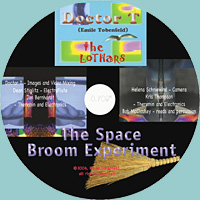 1.
The Space Broom Experiment
2.
The Space Broom Experiment (Festival Edit)
Total running time: 43:08
A DVD documenting our live performance at the 119 Gallery in Lowell, MA, on November 5, 2005. Produced by Emile Tobenfeld (a.k.a. Doctor T) who provided the images and live video mixing. The cost is $19.99 plus shipping.
You can order directly from us with your credit card by clicking on the Add to Cart button and then checking out with the link near the top of the right column.
Want to try before you buy? You can watch a clip of this performance on the Lothars Video page!