Happy Holidays CD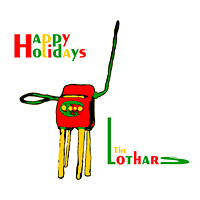 Total running time: 16:51
A super-limited CD, "Happy Holidays," contains two songs: an 88 second version of "Auld Lang Syne," and a 15 minute 23 second long droney-jam we're calling "Om Slaw." There will be no more than 50 copies pressed onto CD-Rs. Cost is $7.99 plus shipping.
You can order directly from us with your credit card by clicking on the Add to Cart button and then checking out with the link near the top of the right column.
Want to try before you buy? You can listen to this entire EP for free from the Lothars Jukebox and/or download a free mp3 of "Auld Lang Syne"!