G.C. 3 and Other Songs CD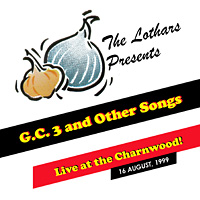 3.
The Marriage Of Queen Lothera
6.
I'll never hear a D in quite the same way again
Total running time: 52:12
Another super-limited CD, "G.C. 3 and Other Songs," was created especially for Terrastock 3. We recorded a practice we had in preperation for this festival, and pressed 30 copies onto CD-Rs.
Sorry, we are sold out of this CD, however several of its songs were recorded "properly" for the "Oscillate My Metallic Sonatas" CD.