Oscillate My Metallic Sonatas CD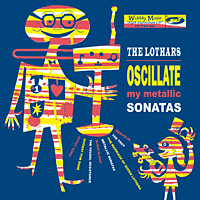 5.
The Marriage Of Queen Lothera
11.
The Feudal Resistance
Total running time: 70:56
How do you follow up a debut release that featured three theremins and a guitar? For The Lothars, the answer was simple add another theremin! On this, their second "proper" CD, released on September 19, 2000, The Lothars have supplemented their quadraphonic theremin attack with guitar, violin and samples to create soundscapes only hinted at on their debut CD "Meet The Lothars." Cost is $12.99 plus shipping.
The cover art is a parody of a 1950's Benny Goodman record originally done by Jim Flora.
You can order directly from us with your credit card by clicking on the Add to Cart button and then checking out with the link near the top of the right column. You can also order via CD Baby, or download it via our Digital Store.
Want to try before you buy? You can listen to this entire CD for free from the Lothars Jukebox and/or download a free mp3!