This interview with member Kris Thompson appeared in the Sept. 14, 2005 issue of
Boston's Weekly Dig
.
KRIS THOMPSON OF THE LOTHARS

by MICHAEL BRODEUR
Issue 7.37
Wed, September 14, 2005
When your parish or temple or mosque or D&D friends are feeling especially proud, what do they do? Throw a potluck or a fish-fry or some shit like that? They probably don't book a cool party in the woods featuring the Lothars, a local four-theremin ensemble. That's why Pagans are so cool. There are probably other reasons, but my word count only allows for so much research.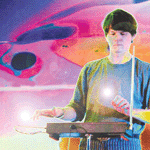 So, Pagan Pride, huh? Is this with the house music and the flatbeds of dudes in leather shorts? That shit's super fun.
You might be thinking of ... oh, actually, yeah – if you dig that scene, definitely come on out to the forest.

Clay Aiken: pagan? I'm thinking yes.
That would be sweet. Pagans aren't a "recruiting" sort, but think about how him as poster boy could swell the ranks.

How many of the Lothars are pagan?
Just me, really. We're not a "Pagan band," but some of the organizers had heard me play solo and gave me carte blanche to bring whatever "act" I wanted to the festival.

So you guys are a theremin-based band. How does the theremin factor into the history of paganism?
It doesn't, but don't count it out of the future history! When Pagans hear theremins, they often connect with the "unseen forces" aspect. If they're not too busy browsing the jewelry tables, that is.

Schedule-wise, you guys are up against a workshop called "So You Want To Write A Pagan Novel" and one on "Celtic Hazelnut Divination" – what will this do to your draw?
I think all the events are in fairly close proximity, so the nut-diviners can be digging on us even if they're not center stage.

What's up with pagans and Utilikilts? Do pagans just carry a lot of tools or something?
That's one particular breed, I guess. All kinds seem to show up – gypsy kids, goths, hippies, retired bikers, Renfair folk, suburban crystal-mongers ...

Why should people wake up and come to this show, anyway?
They shouldn't. I was trying to keep it a secret myself. Although Berry Pond is a pretty sweet place to hang.
[Eastern Massachusetts Pagan Pride Day, Sunday, 9.18.05. Berry Pond at Harold Parker State Forest, Harold Parker Rd. at Middleton Rd., North Andover. 10am-6pm/free. For more info, visit http://massippp.freeservers.com/main.html, http://www.wobblymusic.com/lothars]