OFFERINGS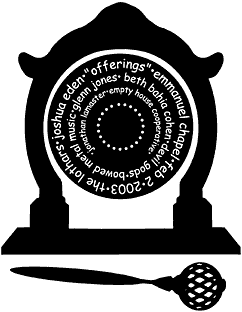 FOR IMMEDIATE RELEASE:
Local musicians are coming together, donating their time and performances to raise money for those affected by the October bombings in Bali. The benefit concert, "Offerings", will be held on Sunday, February 2, 2003 in the stone chapel at the Emmanuel Church at 15 Newbury Street in Boston. The show will take place from 1 to 11pm, and admission will be $10. Updates and further information will be available here at www.wobblymusic.com/bali/.
The music will be diverse featuring theremins, acoustic guitars, bowed cymbals, electric guitars, middle eastern strings, loops, and all manner of esoteric sounds...unified in the spirit of contemplative music, and given as "Offerings." Several of the participating musicians have spent time in Bali, and are especially eager to help. Authentic Indonesian food will be available for an additional donation, and T-shirts (donated by Mirror Image) may be viewed and reserved here.
2pm: The Lothars - theremins, wind synth, electronics, violin, log drum and electric guitar
3pm: Joshua Eden - alchemist of acoustic anti-pop anthems
4pm: Beth Bahia Cohen and Dug Dineen - strings East and West, looped and un-looped, with percussion.
5pm: Devil Gods - guitars, bass and percussion...rock and sonic exotica to ambient instrumentals
6pm: Gamelan Galak Tika - the Boston area's first Balinese gamelan. A community ensemble in residence at M.I.T.
7pm: Bowed Metal Music (Matt Samolis and Peter Warren) - acoustic drones on modified steel cello
8pm: Jonathan LaMaster (Cul de Sac, Saturnalia) - bass, violin and loops with Balinese field recordings
9pm: Glenn Jones (Cul de Sac) - solo acoustic guitar
10pm: Empty House Cooperative - viola, guitar, horns, loops, singing saw, etc. With David Michael Curry, Chris Brokaw, Thalia Zedek and Jonah Sacks.
"Offerings" is a fundraiser for Bali Hati, a registered non-profit foundation. The average Balinese family lives on only 20 to 40 dollars a month, so any funds raised in the U.S. are worth tenfold or more in Bali. Donations made to Bali Hati are tax deductible.
Notes for Editors:
Organizers are Dean Stiglitz and Laurie Ramona Herboldsheimer, (978) 537 5787 or email deknow@netzero.net